Skip to Content
Nashville, TN's Metal Awnings Specialists
If you're a home or business owner who appreciates getting style and quality that lives up to the investment, then Tennessee Awnings has a protective solution for your property in Nashville, TN and surrounding areas. Metal awnings give a stylish and modern look to your home, storefront, restaurant, or office. They also serve as outstanding protective from UV (ultraviolet) rays and inclement weather. You can use these awnings in all sorts of outdoor spaces, including entrances, walkways, and more. Metal awnings will last for years, and it's easy to maintain them to preserve their look and function. The combination of all these benefits, from the aesthetic perks to simple maintenance, makes our metal awnings a cost-effective solution to adding style to your home or building. Commercial and residential customers throughout Middle Tennessee enjoy the sleek appearance and outstanding protection over their doors and sidewalks.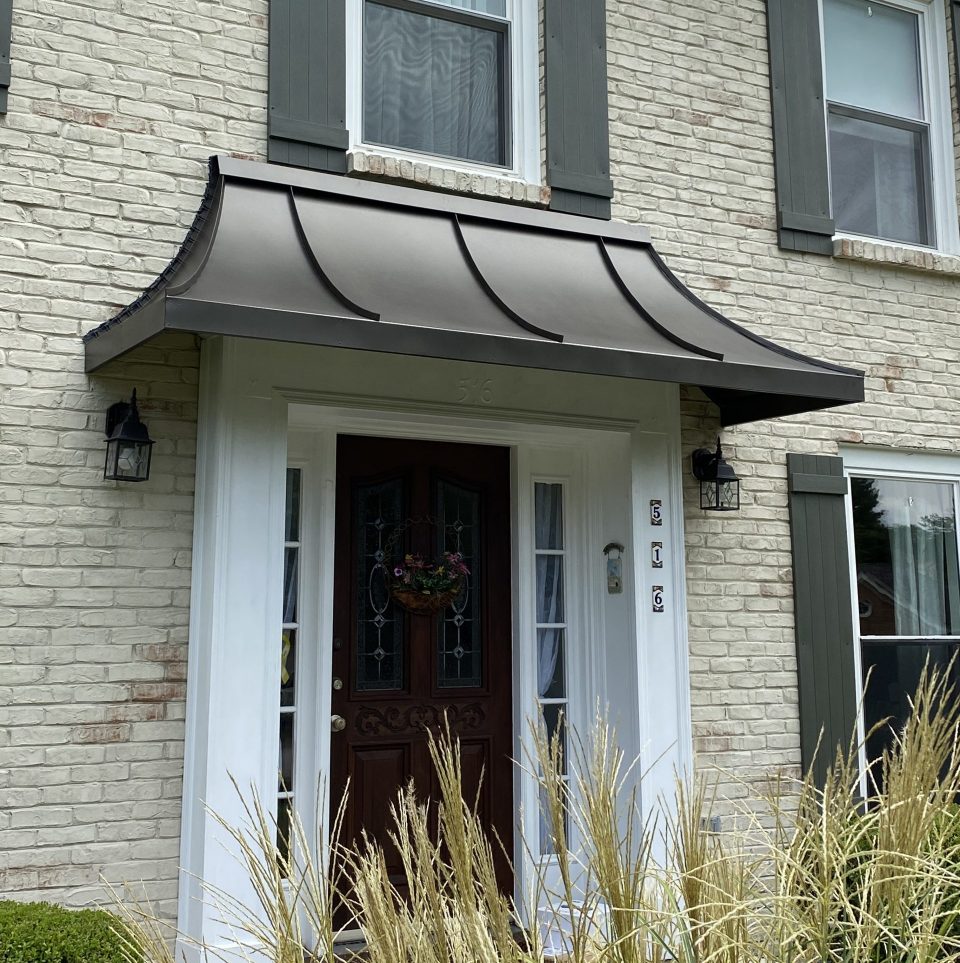 Materials Used to Manufacture Metal Awnings
When you select a metal awning for your home or business, make sure you consider the uniqueness of each metal option. Some will offer timeless elegance, while other metals keep a clean, contemporary look. We'll help you choose the material that offers what you need for your property. Each metal has its pros and cons concerning factors including your budget and aesthetic tastes. Still, every choice available in our collection of industry-leading awnings is a high-quality product. At Tennessee Awnings, we assure you that we address your needs and ideas when choosing a metal awning, and we'll install it with the utmost care and attention. By coming to us for your awning purchase and installation, we'll get it done the first time correctly. The materials from which metal awnings can be manufactured include the following:
Copper
Powder-Coated Steel
Prefinished Metal
Quality Products & Professional Installation
Any of our metal awning options can be colored according to your preferences for style or the color palate of your building. We offer copper awnings, all of which are comprised of 16-ounce copper. This option tends to patina over time naturally. You can relax knowing that working with Tennessee Awnings puts our experience of more than a decade into your metal awning or canopy installation. We've spent that time helping residents and business owners throughout Nashville and Middle Tennessee beautify their buildings and protect their entrance and walkways. If you'd like to discuss design options with us, give us a call today to schedule a consultation with our team. One of our friendly staff members will gladly speak with you when you call 615-849-8034, and we'll give you a free estimate on your project.
Contact Us Today to Learn More About Our Products or Request a Quote.