Skip to Content
Beautiful Entrance Canopies for Your Business
Do you need a simple, effective way to get the attention of customers for your business? Installing a custom entrance canopy could be an excellent solution to advertise your location and protect visitors from the sun and rain. These canopies provide your customers with a walkway to your entrance, and they're useful for displaying your business name or logo for the whole street to see. Tennessee Awnings designs and installs entrance canopies for businesses all over the Nashville, TN area and beyond. We want you to be satisfied with your purchase and installation, which is why we tailor our canopies to your creative ideas. If you have a brand, company logo, or established color to associate with your business, or a specific space you'd like to cover with your canopy, we will accommodate you. We take the size, shape, and other design choices you make and incorporate them into the construction of our sturdy and attractive entrance canopies. You can trust our decade of experience helping customers throughout Nashville with their custom awning and canopy needs.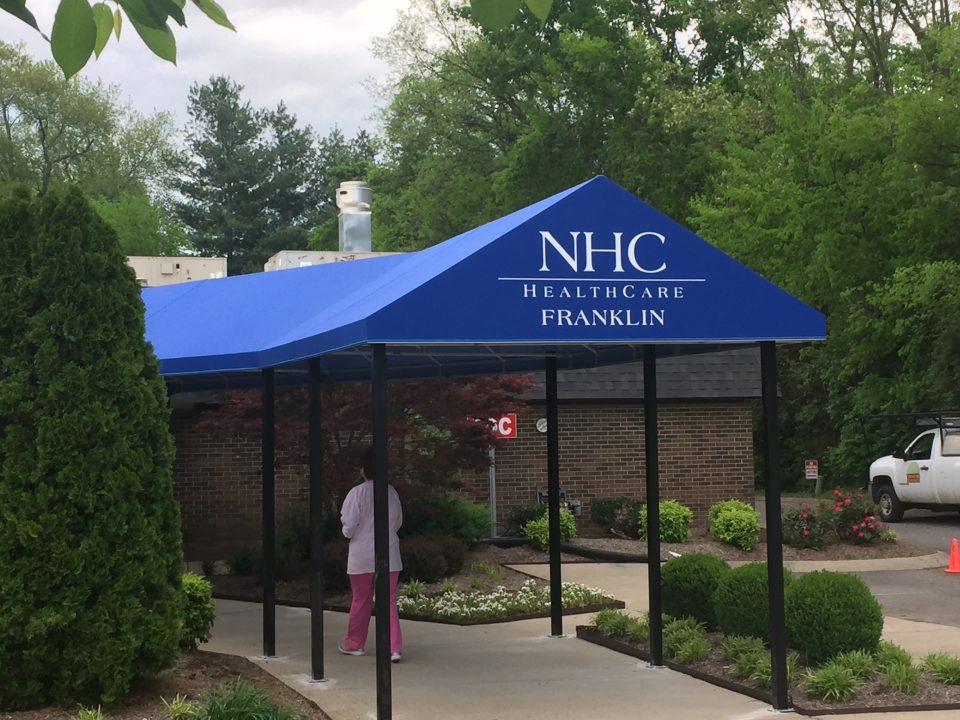 What to Expect with Our Nashville, TN Entrance Canopies
At Tennessee Awnings, we believe that selling and installing custom awnings and canopies requires attention to quality, as well as the custom appearance and a competitive price. When you come to us for an entrance canopy, we make sure you get a product design that includes your selections for color, graphics, and other design choices. You can depend on a long-lasting canopy with minimal fuss and upkeep. The benefits of our entrance canopies include the following:
Every canopy gets made using high-quality materials, so it can last for several years and never need replacement during that time.
You can customize your canopy with graphics such as your business name or logo, or you can personalize it with a slogan or address.
Our canopies are easy to maintain and hold their quality and appearance without extensive upkeep or repairs.
We manufacture each canopy with an aluminum frame, which won't wear down or rust like other materials.
Ten Years of Canopy Design & Installation
Since we started our company a decade ago, we've upheld our commitment to delivering products designed and constructed to suit your style and needs. Our installations also share the same quality and attention to detail as our design and construction. The result is a high-quality canopy that provides style and protection to our customers' commercial buildings. You can advertise your business and give your patrons a welcoming entrance that's customized with the color, graphics, and dimensional options that fit your space. To get started on your own entrance canopy or any of our other awning and canopy options, give us a call today. You can speak with a team member at 615-849-8034, and we'll answer any questions you have.
Contact Us Today to Learn More About Our Products or Request a Quote.