Skip to Content
Drop Screens to Enhance Your Comfort
At Tennessee Awnings, we want you to get the most out of the outdoors in Nashville, TN without suffering the blinding rays of sunlight. With motorized drop screens, you get protection from harmful UV (ultraviolet) rays in your home, and you can keep the interior as much as 15 degrees cooler. Our screens conveniently roll up into an extruded aluminum cassette that makes the screens almost invisible whenever you retract them. We offer our customers only the best screen materials, and we have warranties that range from five to ten years. The weave patterns come in a wide variety to ensure a balance between UV protection and visibility. You can also add heavy-duty zip side channels to enclose your veranda or patio and extend your home or business's outdoor space. The tracks for these zip side channels seal the curtain's edges to block insects and weather from getting in. They're also wind tunnel tested for up to 90 miles per hour! Our team will help you find the screen options that work best for your space.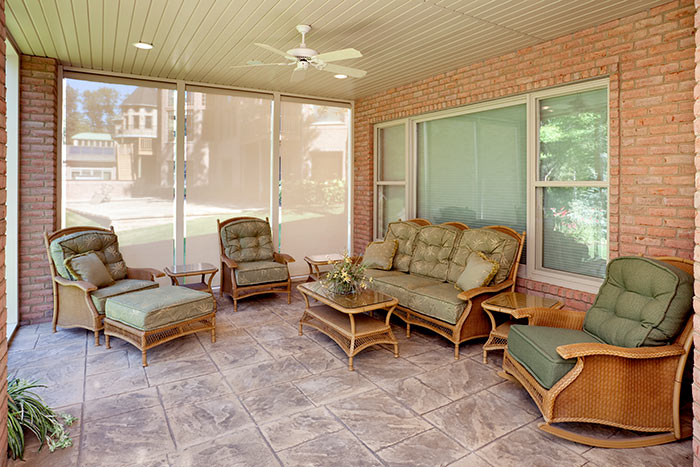 Features of Our Drop Screens
You can count on any of Tennessee Awnings' products for quality, durability, and customized visual appeal to suit your space and design needs. If extending your outdoor space and protecting your family and patrons from UV exposure and excessive heat are concerns of yours, we can help you optimize your property with drop screens. They're convenient for lounging on your patio in the summer, as well as utilizing your outdoor commercial space. There's no need to endure blinding and sweltering sunlight and pesky insects every time you wish to enjoy the outdoors. Our drop screens offer many features to make your purchase well-worth the phone call, including the following:
We offer screens with blackout ability, so you can completely block the surrounding light from entering a space.
The drop screens come in a wide range of fabric colors, allowing you to choose a screen that complements your environment and design choices.
We have motorized and remote control options to make your drop screen use more convenient.
Get a Free Estimate Today
Tennessee Awnings has over ten years of experience helping our commercial and residential customers. We always provide exceptional service to every client and the most long-lasting and advanced products available in the industry. Our team shares a dedication to offering the best possible customer service to customers like you. We encourage clear communication to ensure we complete your entire project to your satisfaction. Give us a call today to get a free estimate on a customized drop screen or drop-down curtain awning for your home or business. You can reach us at 615-849-8034 to speak with a member of our team.
Contact Us Today to Learn More About Our Products or Request a Quote.